In this position, you'll be leading the planning and management of our high-level marketing events, like the one you see in this video below: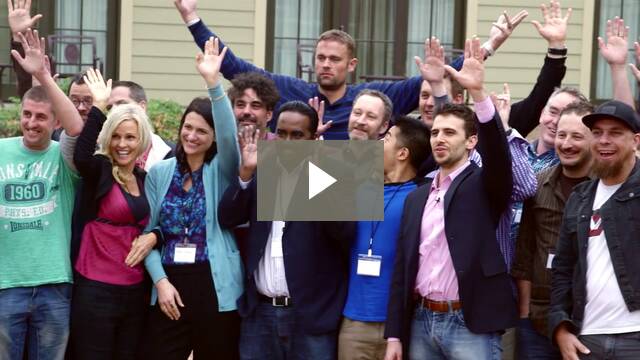 Overview
In this exciting position as our Corporate Event Planning Manager you will use your superb organizational skills, ability to follow through, and pleasing personality to plan and execute our corporate events and conferences alongside our COO. We currently have 6 three-day events planned for 2016 — ranging from 25 to 250+ attendees in different venues across Austin.
This position is primarily virtual. Applicants must be extremely comfortable with working in a virtual environment. You will be required to be on-site at venues in Austin during the events which can take place during the week or some weekend days. Dates are scheduled months in advance so there will be no surprises if you plan accordingly.
Your Responsibilities as Event Planning Manager
You have a "can do it" mindset and you're not easily discouraged when faced with obstacles and challenges. You'll be working in a fast paced environment and "figuring things out" and making things happen within a budget and time constraints is part of your daily routine.
You will act as the project lead and oversee all aspects of planning and logistics – prior, during and after the events.  You will be responsible for the successful execution of key deliverables, including:
Manage attendee registration process for customer, prospects, and staff attendees.
Monitor and respond to attendee inquiries in a timely manner according to internally established procedures.
Collaborate with COO to troubleshoot issues and ensure a good customer experience.
Provide regular reports on key metrics and recommend strategies for continuous process improvement.
Coordinate with COO to manage and track payments, cancellations, and expenses in budget and spend reports.
Lead weekly committee call to discuss event planning schedule.
Manage & lead coordination of committee calls and ensure that execution team stays on track with timelines and within parameters of defined business needs.
Serve as liaison between internal team and external providers (i.e. AV, Meeting Venues, Catering, Restaurants, Transportation, etc).
Provide key metrics and participation reports.
Manage vendor agreements and POs with the support of COO.
Order fulfillment and PO management for conference materials including items such as registration materials, signage, F&B special orders, gift baskets, etc.
Serve as key on-site contact for all events.
Stay cool under pressure and creatively troubleshoot situations that may come up at on-site events.
Other responsibilities as assigned
What we're looking for:
3+ years experience in an event planning role
A high achievement-orientation with a strong sense of ownership of issues
"Can do it" mindset and very persistent in overcoming challenges
Creative thinker who can resolve issues independently
Organized and detailed person who can stay on top of all details without needing reminders.
Experience in the internet marketing industry or corporate event planning is a BIG plus.
Tech savvy with Facebook, Google Mail, Google Apps, Excel, etc.
The Pay:
Competitive and based on experience, with the opportunity for potential future growth.
What we offer
Competitive salary
Opportunity for personal growth & getting an "insider view" of how we run things
Fast growing company & market leader
Access to community of successful entrepreneurs
And a whole lot more
How To Apply
Fill out the form below (all fields are required). I'll be reviewing all applications over the next week.
Deadline to apply is Monday, September 21st, at 4:59 PM CST.